IAPA sketch and poster concept
Designers often have to make sense of elaborate concepts and in this case study featuring an original sketch by an IAPA executive, the design had to make sense of a very complex sketch that was developed at a planning retreat. The resulting poster included a few minor tweaks in how the diagram functioned but otherwise the sketch translated pretty well into an interesting information graphic.
Gourmet Tree promotion package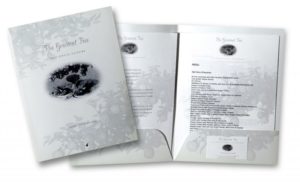 For the Gourmet Tree project, my clients had a very limited budget but needed an elegant solution. Their company did catering for large corporate clients and private parties.Their promotion piece needed to serve several functions: The first was to provide a customizable promotion piece to attract new clients, the second was to present their menus and cost summaries to existing clients and the third was to design a template that they could change themselves as they built a variety of presentation formats. The piece had to be compatible colour-wise and elegantly compliment an array of flowers, colourful props and the other variables that went into each job. We chose to do everything in black and white to provide a colour neutral background and we photographed a variety of elements to use as part of their image including an apple branch, some plate and table designs that they arranged themselves. The result was an elegant black and white piece that was inexpensive to produce but was used very flexibly for several years. Later on, the elements of the promotion piece were also used as backgrounds for their web site.